Handover of the TransTRACK Monitoring Platform for Public Transport Labeling with KADISHUB BALI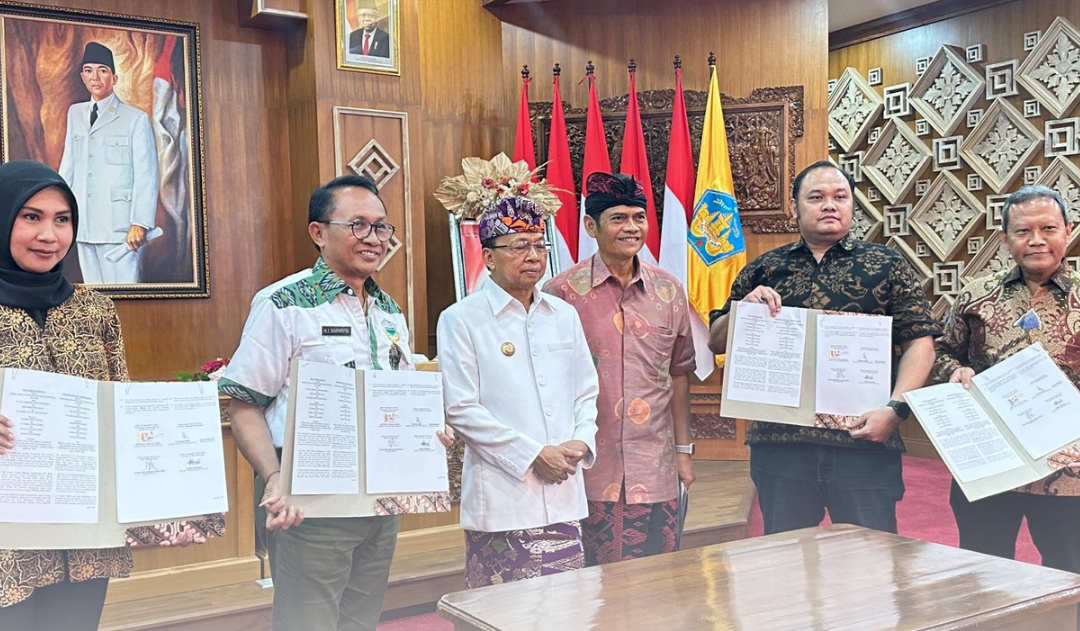 Bali (04/09/2023) – Currently, labeling is an obligation that must be owned by every fleet, especially for tourism transportation. This standardization labeling is carried out to measure the suitability, comfort and age of a vehicle so that it can also implement a Safety Management System.
Against this background, TransTRACK together with the Head of the Bali Province Transportation Service signed the Acceptance Report regarding the Labeling Monitoring Platform for Crete Bali Smita tourism transportation.
Through this opportunity, the Kreta Bali Smita consortium was also signed, between the Chair of DPD Organda, the Main Director of Perumda Kerta Bali Shanti Prov. Bali, Director of PT TUV Rheinland Indonesia as a provider of certification for safe transportation facilities, and Main Director of PT. Trans Indo Teknologi as a fleet management system technology provider.
The purpose of this signing is to ensure that the transportation branch of the local tourism industry in Bali has clear standards. Standardization focuses on fit, comfort, and overall vehicle life. Including changing the design and interior of the vehicle to reflect Balinese culture.
Apart from that, this labeling is also intended to implement the Safety Management System which is required by the Transportation Service for every fleet and public transportation that is currently operating. This implementation is also an investment for the company, vehicle or driver to continue to prioritize safety at work.
Going deeper on the labeling itself, labeling is done by first carrying out an audit/assessment and safety certification. This labeling will be divided into 3 different levels, namely Platinum, Gold and Silver, depending on the condition of the vehicle. With this labeling, it will be useful to stop the practice of cartels and syndicates of tourism actors in applying irrational commissions in the field.
With all these things in mind, the Bali Provincial Transportation Service invites the cooperation of PT Indo Trans Teknologi to implement a Safety Management System in the fleet. By using Fleet Optimizers such as the Fleet Management System, Vehicle Maintenance System, Truck Appointment System, and Transportation Management System, fleet and public transportation companies can ensure security in fleets and public transportation services, with minimum service standards.
TransTRACK itself has safety features such as GPS Tracker, Immobilizer, 2 Way Communication, Driver Fatigue, and other reliable safety features to create a good Safety Management System. With this feature, the company can remotely monitor the location of the vehicle, the driver's behavior in the vehicle, communicate with the driver without having to hold a cellphone, and turn off the engine remotely if something undesirable happens.
In connection with this, TransTRACK also offers additional value to its customers in the form of accident compensation of IDR 50 million per person in the event of death or permanent disability, as well as medical compensation of IDR 5 million per person per incident. TransTRACK is a fleet management solution provider that is in line with government programs, especially the Bali Provincial Transportation Service, which aims to improve the quality and safety of public transportation.
Topic