TransTRACK Presents at Transport & Logistic Indonesia 2023 and Introduces Safety Features!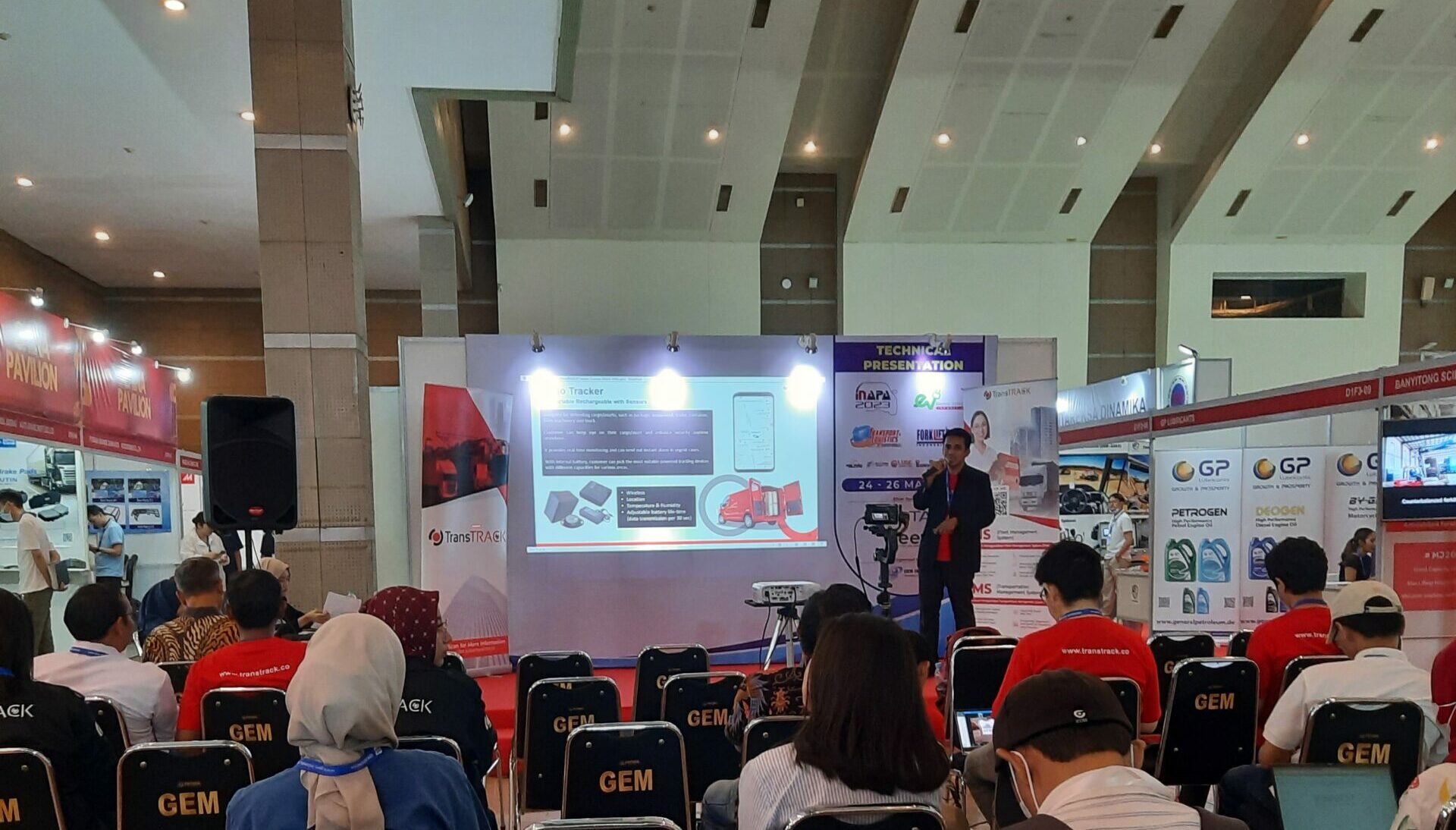 Thursday (25/05/2023) – Transport & Logistic Indonesia is an event or exhibition focusing on transportation and logistics. Transport & Logistic Indonesia 2023 is being held from May 24, 2023, to May 26, 2023, at JIEXPO Kemayoran, Jakarta. This exhibition highlights the advancements in smart and modern logistics, both from Indonesia and internationally, including China, Korea, Singapore, and other countries. Participating in this exhibition, PT. Indo Trans Teknologi, also known as TransTRACK, is actively contributing by showcasing their flagship products. They are participating in a webinar featuring Mr. Yogi Martin Yogaswara, the Regional Sales Manager, who will deliver a presentation titled "Unlocking the Potential of Your Fleet Operations by Using Advanced Solutions from TransTRACK" to optimize fleet management.
During the presentation on Transport & Logistic Indonesia 2023, various driving-related issues that can lead to accidents and harm multiple parties were explained by TransTRACK. These problems include logistical challenges such as delayed deliveries, cargo theft, reckless driving, collisions, inadequate equipment maintenance, fuel inefficiency, and poor integration issues. Companies have suffered significant losses, ranging from 20% to 40% of their expected profits, due to these problems. However, TransTRACK aims to help optimize these issues by increasing fleet productivity by 40% and reducing problems related to overtime, fuel inefficiency, mileage, and idle time by 30%.
"As much as 10% to 30% of users have experienced reduced maintenance costs, fuel costs, labor costs, total mileage, and total idle time, resulting in a 20% to 40% increase in fleet productivity and utilization," said Yogi, the Regional Sales Manager of TransTRACK on Transport & Logistic Indonesia 2023 event.
Additionally, Yogi mentioned how TransTRACK's solutions align with the Republic of Indonesia Ministry of Transportation's program, known as Over Dimension and Overload (ODOL), which aims to reduce the risk of accidents, lower costs for trucking companies, cargo transporters, and commercial operators by avoiding costly fines and decreasing insurance expenses. TransTRACK has integrated with the Ministry of Transportation's system, supporting the issuance of passenger transport permits.
TransTRACK's Fleet Management System (FMS), which ensures fleet safety, utilizes advanced technologies such as driver monitoring for identification and behavior analysis, fatigue detection, road and cabin situation monitoring through camera utilization, and two-way communication, enabling driver communication without the need for handheld devices.
In addition to land fleet management, TransTRACK also provides system services for air and sea vehicles. The Vessel Tracking feature operates in a hybrid manner, connecting with both cellular and Iridium Satellite Networks. This makes it suitable for rural areas and direct ship tracking.
TransTRACK is also equipped with a global SIM card that can be used both in Indonesia and abroad, an Open API for integration with other applications, and Push Data Services for integration with other systems. Notable TransTRACK features include driver behavior analysis, fuel stabilization, start inhibit, two-way communication, 360-degree camera, ADAS cam, immobilizer, E-seal, speed buzzer and limiter, temperature and humidity monitoring, maintenance tracking, GPS tracker, and many more.
To support passenger and driver safety management, TransTRACK offers accident compensation as an additional value to their fleet telematics solution. A compensation of Rp 50 million will be provided per person for permanent disability or death, and Rp 5 million per person for injuries resulting from accidents. This compensation will be given per incident, provided that the individuals were using TransTRACK products. With all the security features provided by TransTRACK, the company prioritizes user safety through these notable features from TransTRACK.
Topic