TransTRACK at INAGRITECH 2023, Present Agricultural Sector Features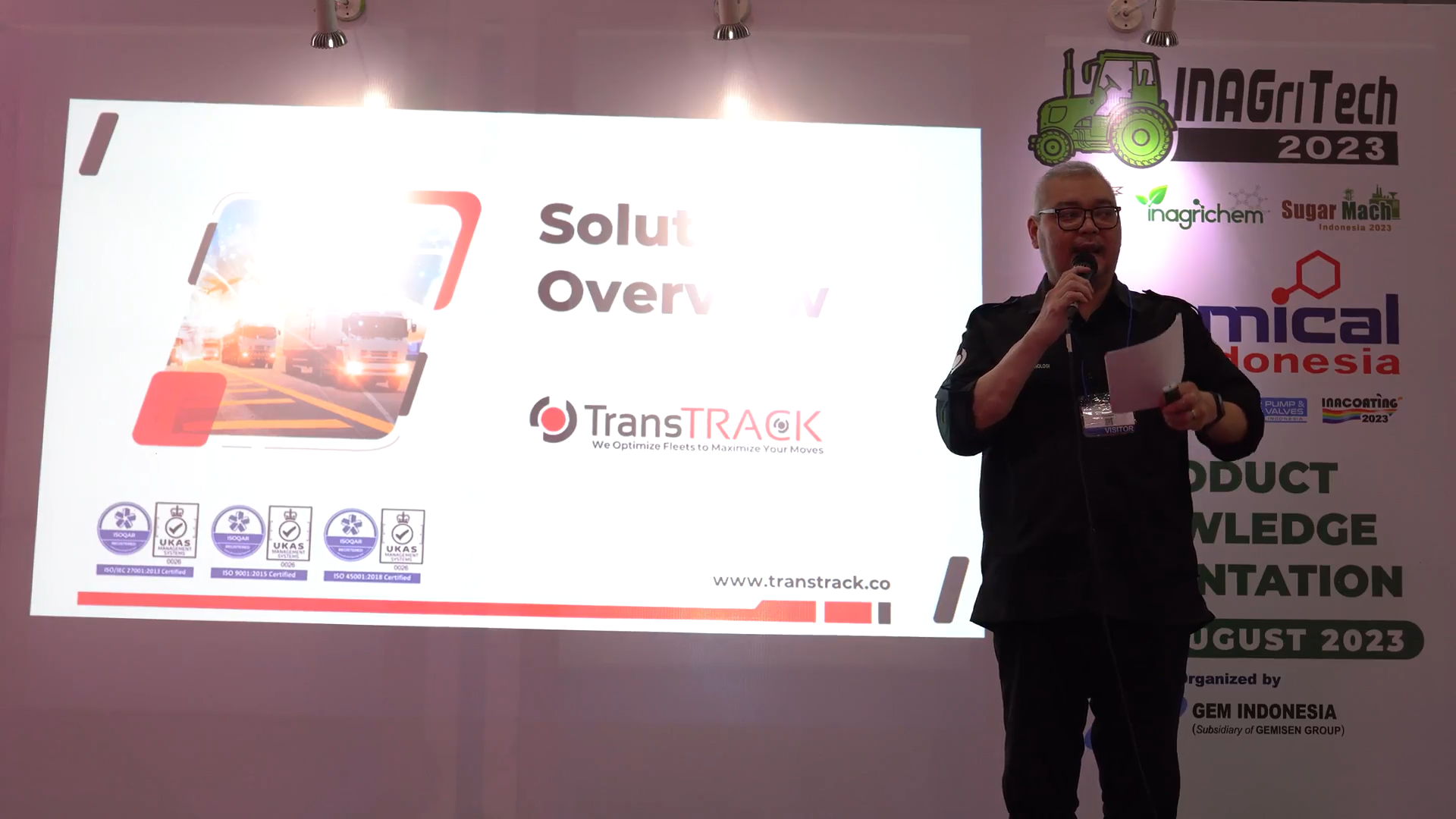 Jakarta (23/08/2023) – Agricultural is one of the sector that produce the largest economic resources in the world. Then, what happens if this largest sector has problems at the production stage? For this reason, TransTRACK comes with more efficient solutions in the agricultural world through the INAGRITECH 2023 exhibition. This exhibition will be held on 23-25 August 2023 at JIExpo Kemayoran, Jakarta. Together with Hendrico Ari Febian as Sales Executive at TransTRACK. TransTRACK presented presentations to optimize various industrial sectors from transportation, construction, logistics, agriculture, manufacturing, mining, etc.
Through Mr. Rico's presentation, it was explained about the problems experienced by various business sectors. Starting from delays, theft of cargo, bad drivers, machine accidents, repairs, fuel that runs out quickly, and poor integration. With these problems, the company has lost a lot of its profitability.
However, with TransTRACK as a fleet management solution, companies can increase up to 40% of fleet productivity and safety. As well as reducing about 30% of existing losses.
"By 10 to 30% of users have experienced a decrease in maintenance costs, fuel, workers, total mileage, and total idle time, which makes 20 to 40% of users have experienced increased productivity and fleet utilization" Said Rico, Sales Executive from transTRACK.
TransTRACK itself comes with 2 of the best solutions, namely Fleet Operation Optimizer and Supply Chain Integrator. The first solution is divided into 3 products, namely the Transportation Management System, Fleet Management System and Truck Appointment System.
For the agricultural sector that usually uses heavy equipment, TransTRACK also presents its top features, such as the Hybrid GPS Tracker which can be used in remote places without a signal. Immobilizer for remote heavy equipment, Fuel Monitoring for fuel optimization, Driver Behavior and Fatigue to monitor driver behavior, ADAS Camera, E-Seal, Two Way Communication, and other excellent features.
In addition to these features, the advantage of TransTRACK itself is in its flexible platform and can be connected to other platforms. By using a Global SIM Card, the TransTRACK tracking feature can connect to any signal. So that it can be used both in Indonesia and abroad.
TransTRACK will provide accident compensation as an additional feature to its fleet's telematics technology to help passengers and drivers keep themselves safe. For those who suffer from permanent disability or pass away Rp. 50 million will be given each individual. And Rp. 5 million per individual for those injured in the accident. Compensation will be provided per occurrence if they are currently using TransTRACK products. With all of TransTRACK's security measures, TransTRACK is a company that prioritizes the protection of its users with TransTRACK's superior features.
Topic