Supporting SMEs Globally, TransTRACK Presents Fleet Telematics Solution!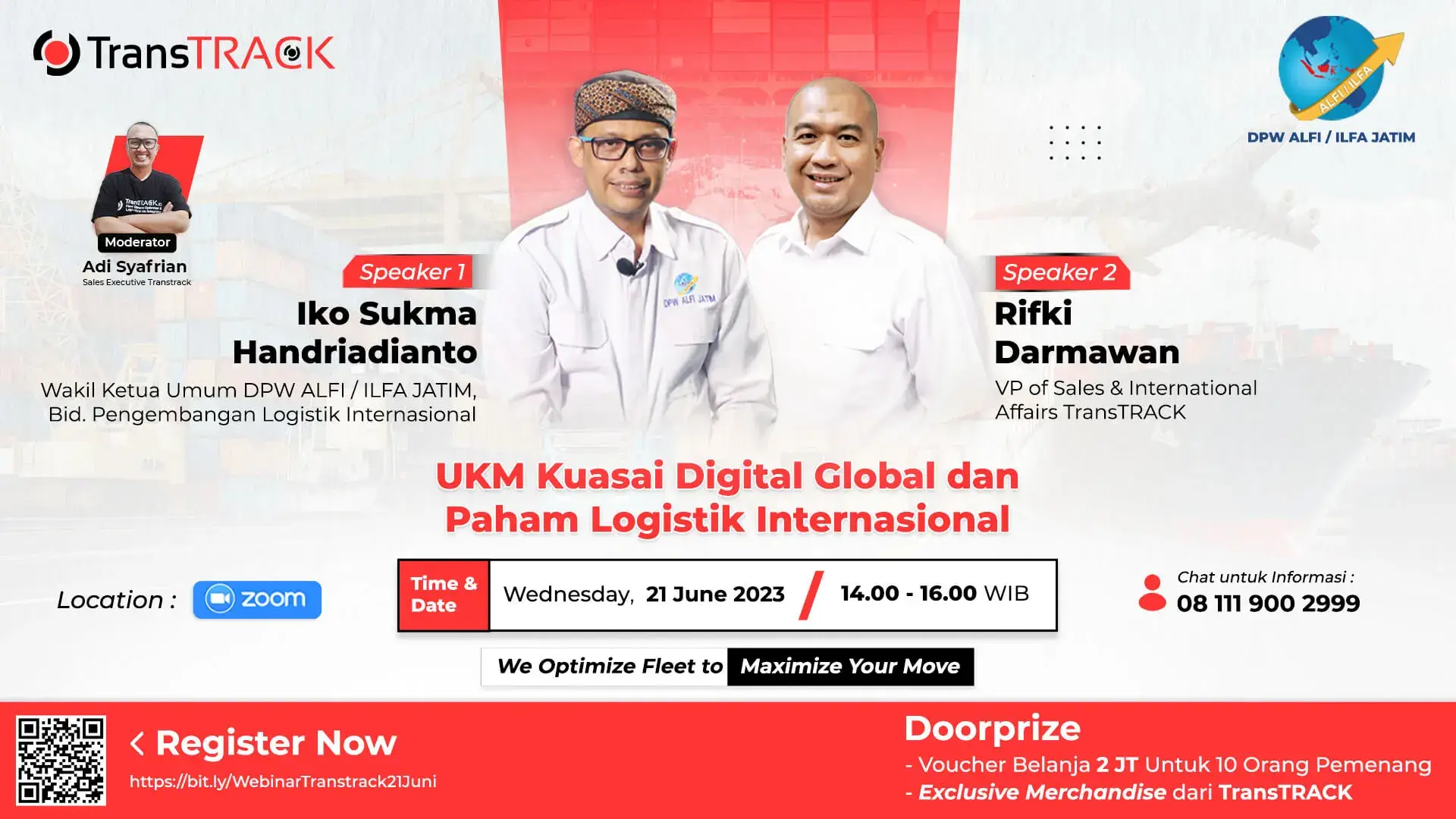 Jakarta (21/06/2023) – The many opportunities to market goods are an opportunity for each individual to earn income. Starting from micro businesses to import export activities. With this idea, TransTRACK with Iko Sukma Handrianto as Deputy Chairperson of DPW ALFI/ILFA East Java, International Logistics Development Sector, held a webinar entitled "SME Master Global Digital and Understand International Logistics" to teach small entrepreneurs in exporting goods.
Small and Medium Enterprises (SME) have entered the 4.0 era which integrates and transforms data, information, communication, digital technology and logistics globally. Export activities have also become easier based on technology and simple logistics, so that individuals who start as personal exporters can become corporate exporters.
"The first step for individual exporters who want to make the import-export process bigger is to become a personal exporter first so they can become corporate exporters," said Iko Sukma, Deputy Chairman of DPW ALFI/ILFA East Java.
In his presentation, Mr. Iko Sukma also explained the 5 elements of SME to become exporters and be able to penetrate the global market. Namely with the existence of local potential/commodity products, individual/joint business entities with regions of origin, international logistics, internet networks, and digital marketing globally.
For digital marketing itself, market players can do branding and market analysis first so they can go to the promotion and networking stage, then sellers can do selling and dealing so digital payments can be made using global payment methods.
The need for regulation is also very important in import-export activities. Such as regulations from the country of origin, carrier/shipping regulations, and regulations from the destination country. As for products that can be exported, they can be anything as long as they are not prohibited goods. And for corporate exporters it is also in accordance with market demand that fulfills 3 conditions, namely country of origin, delivery and country of destination.
Along with this, TransTRACK, which presented Rifky Darmawan as VP of Sales & International Affairs, also explained how TransTRACK can support these import and export activities. By using the Fleet Operation Optimizer, problems such as late deliveries, theft, bad drivers, accidents, repairs, fuel usage and inefficient integration can be resolved by increasing productivity by 40% and reducing idle time, overtime, total miles by up to 30%.
In addition, there is also a Supply Chain Integrator that is used to integrate shipment companies (SC) as goods production companies with aggregators (LSP) as companies that will connect with fleet owners as (Vendors) who provide vehicles and (Drivers) as goods delivery services . So that the development of this system can help and facilitate a business in carrying out logistics operations both import and export.
Going deeper on TransTRACK, Yurvan Igo Wibowo as Group Product Manager from TransTRACK also explained about TransTRACK products that can help SME entrepreneurs (personal exporters) in developing their export activities, namely the Mobility Tracker. Mobility Tracker itself can be used to monitor goods shipments in real time without using GPS. The tracking process can be carried out using the driver's smartphone and integrated with the Task Management application and the TransTRACK Fleet Management System platform.
TransTRACK itself is more concerned with how users can optimize the delivery process as much as possible by minimizing unwanted risks during the trip. With FMS, LSI, TMS, Mobility Tracker, both individuals, organizations, companies can improve the process of their export and logistics activities properly.
Topic