Types of Pallet Racking: Differences & Benefits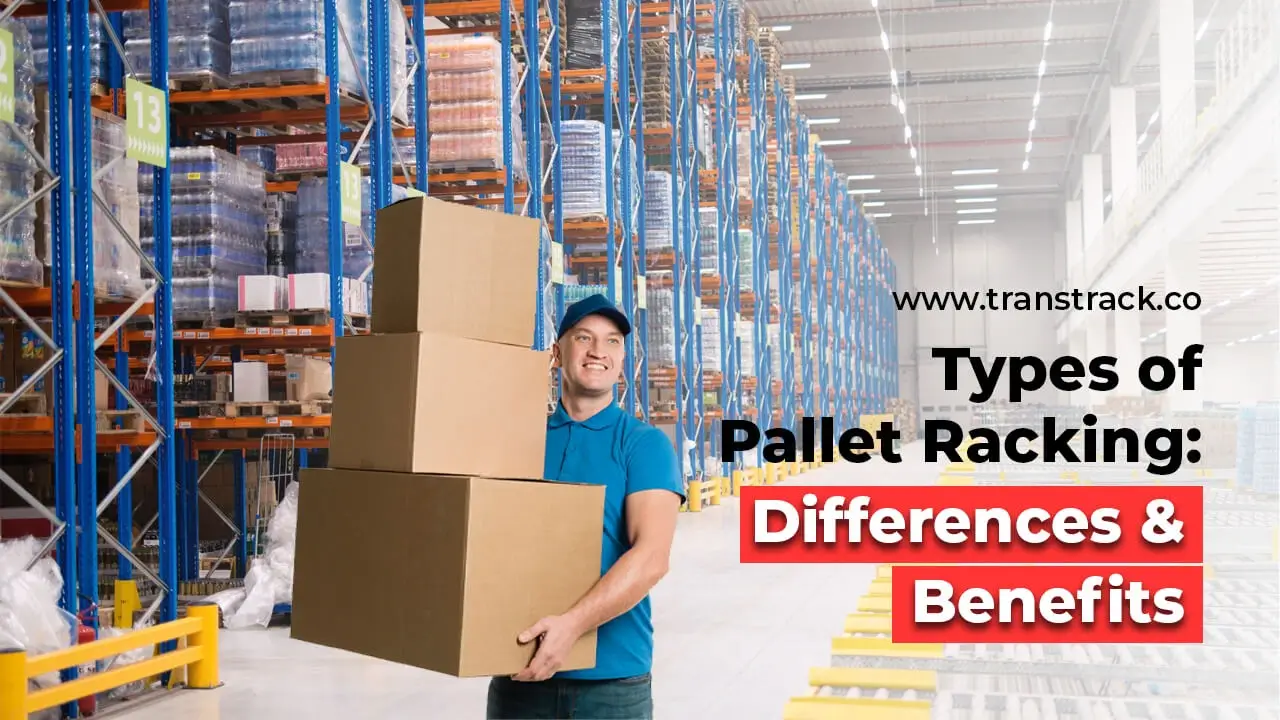 Pallet racking for your warehouse may seem too complex for what is actually a simple task. From the wide variety of names referring to the same product to the variety of styles available, making the right decision can feel confusing.
Pallet racking seems to have countless other names. Some terms that are often used are bulk storage racks, storage racks, tear racks, warehouse racks, warehouse rack systems, warehouse mezzanines, industrial racks, and rivet racks. Get to know more in this TransTRACK article!
Pallet Racking, what is meant?
Pallet racking is a vertical construction constructed from a metal frame. The beams and their connectors are joined through bolting, welding, or pinning to form a pallet storage module, where inventory and equipment are stored.
One of the reasons why pallet racks are so popular is their flexibility and ability to be rearranged according to the needs of storage plans in various warehouses.
In a detailed racking system structure, pallets are placed horizontally at various levels. The number of levels varies depending on the contents of the pallet as well as the number of block levels, which can range from three to six or even seven levels.
Benefits of using Warehouse Pallet Racking
The convenience and structural advantages of pallet racking make it a crucial factor in warehouse storage and management techniques. Many areas in production and manufacturing facilities are unused or not utilized optimally due to lack of organization or the presence of inadequate equipment.
Pallet racking is presented as a very suitable solution for maximizing the use of previously wasted or neglected areas.
Efficiency encapsulates a key principle in the modern manufacturing landscape, considering it plays an important role in saving time and increasing profitability. Established companies are very aware of the importance of optimizing the assets they own, including in terms of setting up storage operations that have been designed economically.
Increased Use of Space
Most of the warehouse area is designated for safe traffic lanes and forklift vehicle access. Keeping materials spread out on the floor not only hinders access, but also results in a disorganized layout. Pallet racking allows efficient optimization of floor space, taking advantage of the space under the ceiling.
Storage at Scale
Pallet racks, such as push and flow racks, provide a stable and safe structure for loading pallets and storing bulk materials. High density goods can be organized and accessed easily without requiring significant changes to the existing warehouse structure.
Inventory Management
Of the many aspects of operating a business, managing inventory is the most complex. Even though technology has helped in automation and optimization, inventory still needs to be updated regularly, usually every three to six months.
Maintaining accurate inventory control is absolutely necessary to increase profitability and offer smooth customer service. Using pallet racking that is structured and planned effectively is an important step in improving inventory management. The wide range of accessories and additional features available for pallet racks allows for more precise control of inventory system details.
Individual Adjustments
Each pallet racking system is designed, configured, engineered, and planned to suit specific warehouse needs. While businesses may offer similar products, the way they structure their storage and picking patterns may differ.
The adaptability and flexibility of pallet racking allows the creation of storage solutions that specifically suit the demands of different warehousing plans.
Shelf Safety
Safety is the most essential thing among the various reasons and advantages offered by the use of pallet racks. Within the scope of the manufacturing process, irregularities and lack of supervision in storage can result in risky situations and have negative impacts. A well-maintained pallet racking system provides a solid foundation for preventing risks to workers and materials.
Types of Warehouse Pallet Racking Systems
There are various variations of pallet racking designs available that are intended to handle products with certain weights or characteristics.
In the following description, we will briefly outline several types of pallet racks to choose from.
Selective pallet racking system
The preferred shelving system is commonly used, having a simple structure that can be arranged according to the client's various needs, especially in terms of setting up horizontal layers with different levels.
This system helps effectively increase storage capacity while reducing the time required for searching and handling during the picking process.
This preferred shelving system is more suitable for storing products with a lighter weight.
Double deep racking
Double deep racking allows twice as many shelves to be placed per pallet when compared to traditional racking structures. For warehouses and businesses that manage large volumes of goods, this pallet racking option is becoming a popular choice.
However, there is a drawback to this double pallet rack system, namely that it requires a special unit such as a reach truck to pick up pallets from the rack.
Before deciding to use double pallet racking, it is essential to carry out a comprehensive site survey to ensure compatibility with the existing warehouse layout.
Drive-in pallet racking system
Pallet racks with drive-in or drive-through forklift systems optimize the maneuverability of forklifts and other material handling equipment in the warehouse. These racks are arranged in such a way to form blocks that produce space efficiency by reducing aisle area. The loading and unloading process becomes more comfortable and efficient.
Conclusion
Pallet racks are vertical structures consisting of a metal frame made of steel equipped with beams and connectors. These beams and connectors can be connected via bolting, welding, or pinning to form storage modules used to house inventory and equipment.
One of the reasons why pallet racking is so popular is because of its flexibility and ability to be adapted and changed to suit the storage needs of a variety of warehouse plans.
Pallet racks come in a variety of styles, designs and capacities, which are determined by the type of product to be stored and the capacity of the warehouse space itself. The characteristics of a pallet rack are identified by the way its horizontal beams connect to the vertical posts. There are various forms of connection that can be applied, generally determined by the manufacturer.
In an effort to increase efficiency and productivity in your warehouse operations, it is very important to utilize integrated logistics solutions that can simplify the process of managing stock and shipping goods. One option worth considering is utilizing the Logistic Service Integrator offered by TransTRACK.
Logistic Service Integrator is a platform specifically developed to help companies optimize their supply process chain. By choosing TransTRACK as this solution provider, you will get full access to various features and services aimed at increasing the efficiency of warehouse organization as well as improving the overall performance of the logistics aspect.
Topic