Mother Vessel Becomes the Largest Logistics Transport in the World? Here's the List!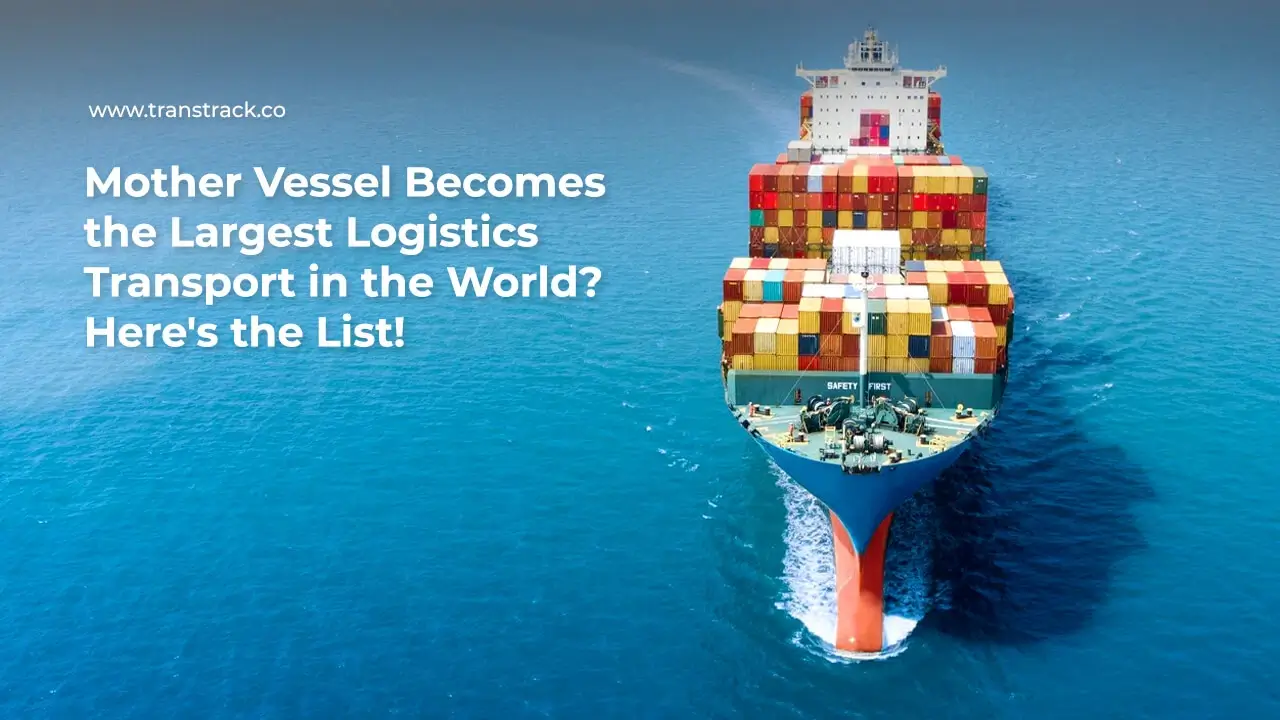 A mother vessel is a type of large ship for transporting goods. How is it different from other types? Let's explore the explanation in more detail.
In the world of the shipping industry, ships have an important role as the main means of transportation for sending goods in large quantities to various wide areas.
However, there are actually various types of ships that have different functions. Examples are feeder ships and aircraft carriers. Go more deeper in this TransTRACK article!
Mother Vessel, what's that mean?
The size of the mother vessel is larger than the feeder vessel. Aircraft carriers operate exclusively between major ports. The carrier's carrying capacity reaches thousands of containers. Mother vessel visits are limited to main ports only. Mother ships travel long distances when compared to feeder ships.
Mother vessel function in logistics
In the realm of international trade, mother vessels play a significant role, especially in terms of shipping goods and trade commodities on a large scale, and also require special processing or processing stages before they can be sold.
In more depth, here are several examples of the main role of aircraft carriers in the import-export context:
Distribution of Goods
Aircraft carriers also have a role as supply vessels for ships operating in international waters. For example, oil drilling ships can use mother ships for storage and distribution of raw materials and equipment.
Acts as a means of production
Another role is as a production facility for certain products before the export process is carried out.
For example, mother vessels are equipped with drying facilities that can be used to dry fruit or vegetables before they are packaged and sent overseas.
Delivery of Fishery Catch Results
Another role of aircraft carriers is to function as a useful tool for sending fishery catches for export or import purposes to and from various countries.
Small vessels that catch seafood can send their catch to mother ships, where the catch will be processed and processed so that it can be immediately marketed.
Increased Efficiency
Aircraft carriers have made the transportation process easier, speeding up the delivery of goods to their destination, thereby increasing trade efficiency.
Trade Growth
The ability of aircraft carriers to transport large amounts of cargo has supported the growth of international trade, facilitating the exchange of goods between countries.
Cost Savings
The economies of scale achieved through larger cargo loads have resulted in cost savings for shipping companies and consumers.
Access to Markets
Aircraft carriers open up access to markets for countries with limited port facilities, allowing them to participate in global trade more effectively.
The difference between a mother vessel and a feeder vessel
Generally, feeder vessels are smaller in size compared to mother ships. Feeder vessels operate in services between small ports and large ports.
In other words, the task of feeder ships is to transport cargo from small ports to mother ships for the export process, as well as from large ports to small ports for import purposes. When compared to mother ships, feeder ships have lower speeds.
The average capacity of feeder vessels is 300 to 500 TEUs (20′ containers). Feeder ships serve short distances, both between small ports, and between small ports and large ports.
Meanwhile, the average mother vessel has a capacity of around 10,000 TEUs (Twenty-foot Equivalent Units). In the 1960s, the maximum capacity of ships ranged from 500 to 800 TEU. Currently, there is an aircraft carrier with a capacity of up to 24,000 TEU.
List of the Largest Mother Vessels in 2023
Every year, the maritime industry witnesses extraordinary technological advances, resulting in ships that are ever larger and more efficient at carrying cargo. 2023 will be no exception, with the impressive emergence of the largest mother vessel. In this list, we will introduce you to these extraordinary ships that will form the backbone of global trade within this year.
MSC Irina
The MSC Irina container ship is the largest in the world with a capacity of 24,346 TEU. In 2023, this ship entered service and sailed under the Liberian flag. With a length of around 399.9 meters and a mold width of around 61.3 meters.
In February 2023, the ship underwent sea trials before finally being delivered to Zhejiang Zhoushan Shipyard for the final stage of work. The official launch of the MSC Irina will be held in March 2023. Recently, this giant ship made its maiden voyage and docked at Nansha Port.
OOCL Spain
Orient Overseas Container Line (OOCL), also known as OOCL, succeeded in acquiring the first container ship with an extraordinary capacity, namely 24,188 TEU, which was named OOCL Spain. This ship was designed and built by Nantong COSCO KHI Ship Engineering Co.
This giant ship has overall dimensions of around 399.9 meters and a width of 61.3 meters. On March 25, 2023, the Hong Kong Harbor Alliance enthusiastically welcomed the arrival of OOCL Spain on its maiden voyage.
MSC Tessa
The container ship MSC Tessa was designed and built by Hudong-Zhonghua Shipbuilding for the Mediterranean Shipping Company (MSC).
This giant ship has an extraordinary carrying capacity, reaching 24,116 TEU. The deck area is equivalent to four football fields. MSC Tessa has dimensions of 399.9 meters long and 61.5 meters wide and operates under the Liberian flag.
Conclusion
It is important to remember that these large container ships also present a number of challenges and difficulties. In order to operate at optimal levels, they require special infrastructure and maintenance.
As the maritime industry continues to make further technological breakthroughs and advances, it will be interesting to see the development of increasingly larger and more sophisticated container ships.
Control your cargo delivery perfectly using Cargo Tracker from TransTrack! With advanced technology, you can monitor the position and condition of cargo in real-time. No longer need to worry about delays or lost cargo, because our Cargo Tracker provides accurate and reliable tracking solutions. Make sure every delivery arrives on time and without any problems. With Cargo Tracker, shipping control is in your hands.
Topic